Want to quickly know your typing speed or practice for a job interview?  I found a cool, easy to use typing speed website today.  You can do it multiple languages as well, and it's FREE.  I, myself, have a weird, hunt and peck method that seems to work for me, but it's in no way, proper that's for sure.  Seems to get decent results though!
Q:  How important is it for you to be able to have typing as a skill?
CHECK IT OUT!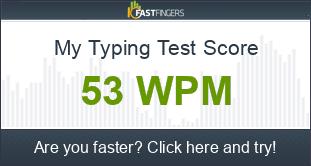 Visit the Typing Test and try!
Test yourself and see how you do!  Post your comments below.  
Latest posts by Joe Girard
(see all)